When will the new update come? Please add custom font and action bar.
Nd most important please release Companion.
And update?
BTW thanks a lot for the Companion
Have a look at this photo which is posted by @Souvik on official telegram group on 6th May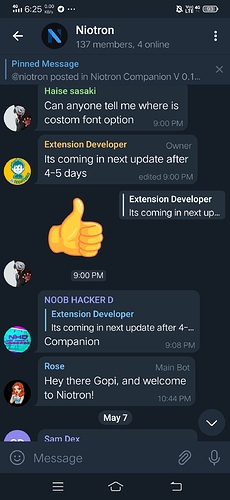 As him the update is not far.
We have the update in our mind. So have patience.
Tysm for the Companion
AutoConnect feature is awesome.
Keep up the good work



It was just an estimation, not an official post
Thank you for the positive feedback

No you are getting me wrong…
I mean probably…
no companion. The file you discarded wetransfer has been deleted.