Also add applovin mix for madaition
Are you talking about Admob Waterfall Mediation ??
Niotron please also add applovin for Facebook bidding
This solution is for @joy_gamer and @Anas_MUHAMMAD as you can see in the picture below you can see that applovin is still not approved partner of Facebook audience network so this can't be done till Now here is the direct link to the page form where the below screenshot is clicked you can go through this page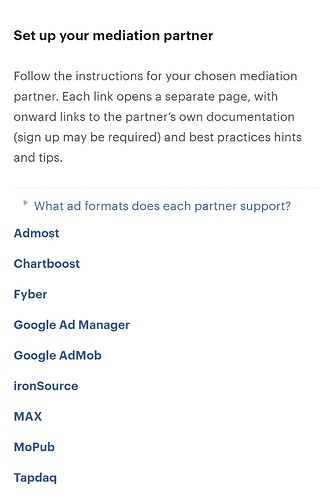 So at last we came to a conclusion/results that applovin with Facebook Bidding/mediation is not possible any where till applovin becomes a approved partner thanks
Oh bro the second name of applovin is MAX . And you can see in the screenshot that the MAX are available

Just to clear the confusion, MAX is by Applovin.
OH ! Sorrryyyyyyy

My problem is what that i make apps without ads and ads are only for clients sorry !






and i don't use much ads
Sory for writing mistake i saying regarding Applovin MAX for Facebook bidding
Please give this mediation in next update
Many users request for this mediation
Yes this is main point​