Do you help me guys, what's the problem. I Already purchased Asset limit. But i don't know what's the problem.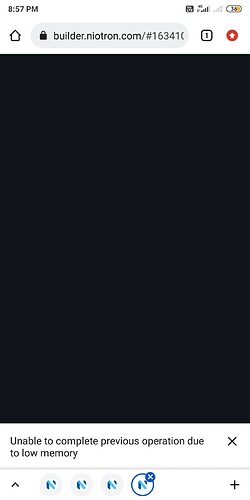 how much RAM is in your device, also do not use chrome, Firefox is a big deal now days

And also please try using Niotron on Laptop or Computer
These sites are not meant for smart phone you Should use it on a desktop or laptop or a tab and there is no solution for low memory this depends upon how much ram is free in your device
This isn't related to Niotron's limits, check your device restrictions.
I don't have a pc, laptop or good device. I'm only one poor developer.
I create an app on this device an earn 3500 rupees. When possible i must need a PC. But i create many app on this device - Mi note 5. Please don't laugh, I'm very poor developer.
Who is laughing ?
i must say you should remove extra apps from you mobile and if possible the format your device to delete resource using apps and last thing try other browser not chrome it uses a lot of ram
Yes. I use Puffin and Chrome both.
@TEAMHITTER Don't use chrome on mobile for niotron or any other builder its consuming so much ram instead use edge or puffin