Hi developers,
Am here to introduce Cloudstreets - A dedicated extension to open google maps application with a defined destination, origin and travel mode.
The extension is completely free to use but decompiling of the extension is prohibitted. You are free to share the extension with your friends so that it can help them too
I would be amused to see how you have used this extension, you can tag me in your post to show your love towards my work.
This is the first version of this extension and many more updates are yet to come based on your suggestions, do help me in improving it by adding up your suggestions here
It currently offers 3 major blocks as shown in the image below :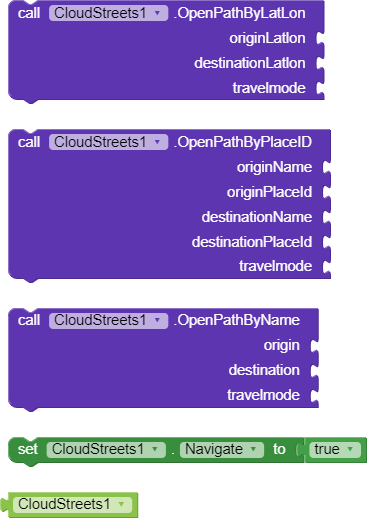 For docs you can visit our official website : https://docs.xyberneo.com and click on Cloudstreets
Any youtuber or blogger intrested in making a video/ writing a blog can do so without any prior permission from me
A special mention to @Souvik for help me during the development process
You can also join our support group on telegram : Telegram: Contact @XyberNeoExtensions
You can ask any query that you have regarding the extension .
PM for further information.
Latest Version of Extension :
Cloudstreets.aix (7.9 KB)
Thanks,
XyberNeo AKA Aditya