When i try admob in emulator show error like this sir but not show in phone


Have you suspeced any block which is giving error?
Are you using any extensions
Or show the components you are using
Maybe at Mobile Ads component because on information still SDK 20.2.0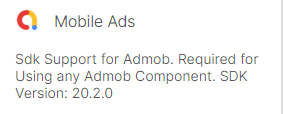 I think no problem with use my ext because at before its runinng well, only after update its crash on emulator
@Dicky_Ma_ruf do one thing take a backup of your project as aia
then delete the AdMob ads from the project and then re-export the app and check if app still crashes or not
If admob companent not load then error not happen. Update info : error only show in bluestack, i'm try at nox is running well
I am also using BlueStacks and face same error every time, but when I test app on my device tuen it works fine!