Three simple text extensions.
1 - IndexOf. Like Starts At but allows you to enter a starting index so you can, for example, make a Find Next function for a notepad type app, like I'm planning to do. I personally think it works great with the TaifunTextbox extension.
2 - LastIndexOf. Basically an Ends At, or, if you have 5 occurrences of search term, will return the index of the 5th occurance.
3 - ReplaceFirst. For if you want to replace a term one at a time instead of the built-in replace them all at once.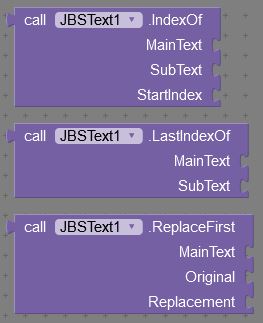 TextExtDemo.aia (7.6 KB)