In my case, Builder stuck at SignIn loop
Error 404
Host is not trusted. This could occur because you have not configured a custom domain. Add a custom domain to your project first and try again.
Type
router_host_not_found
It is a pleasure to be able to count on your efforts and I know how difficult it is for you to keep these platforms running but deep down there is a lack of trust on my part when I work on them, it always seems like one day you will not be able to continue with a job , I am really thinking a lot about using mit app inventor locally, should have open source Niotron, it would add a lot of value to your business and paid users will continue to be paid, it is very unlikely that the user who is paid in this At the moment it ceases to be, in the end the slightly more "experienced" user has the knowledge to avoid having to pay for certain things and those that are a more key part of their business model could keep it under a private code, respectfully receive my opinion, it is not a criticism, I repeat, it is a pleasure for me to have your platform.
Please fix this fast.
I can't login. I can't working.
Help…
Now the error is being another: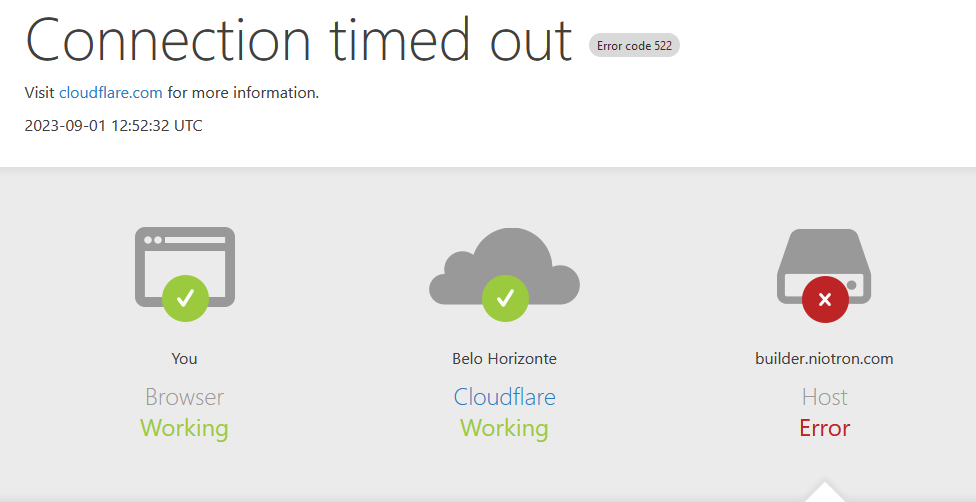 I switched to Niotron because of experimenting with new ways of building apps. I was wanting to even sign but with this one I won't anymore. Where are the administrators to report what happened and how long it will stay like this?
Dear @NiotronStaff
It has been more than 24hrs since the servers went down.
I have no doubt that you are doing your best to restore services asap.
I hope that you can draw some critical learning points from this episode
so that the downtime is minimized in the future. Also, it is always good
for some staff member to provide updates to the Community on the status
and when we can expect services to resume.
I will continue to support and use Niotron, and hope that there can be
greater improvements to the service and support area.
Thank You!
Same Problem Continue in Last 12 Hrs. Can not open builder
All moderators are in Deep sleep mode or READ Only Mode
Try to run this

command.
sudo chmod 777 mods.txt
How to run it and what is it for?
This script is to wake up the mods…


Taifun
But I dont understand, which mods is that